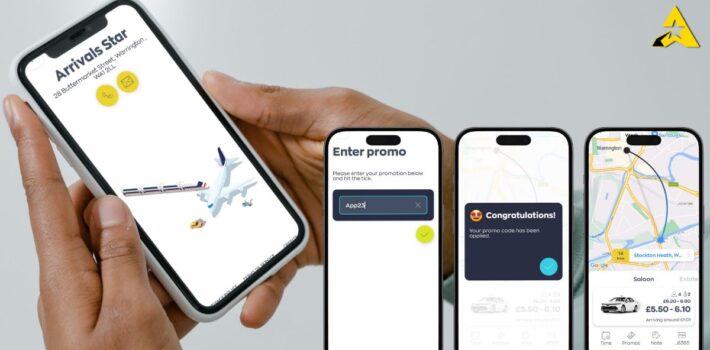 Gone are the days of waiting endlessly for a taxi or having to call up and book your ride in advance. Arrivals Star Taxis is excited to introduce our long-awaited and innovative taxi booking app, designed to bring you instant access to over 200+ vehicles and a world of travel possibilities, 24/7. Discover freedom, convenience, and instant service like never before!
A Vast Network of Vehicles at Your Fingertips
At Arrivals Star, we understand that time is of the essence. That's why we have made it our mission to connect you with a vast network of reliable vehicles, ensuring that you get to your destination promptly and hassle-free. Whether you're in Warrington or surrounding areas like Lymm, Culcheth, Burtonwood, Newton le Willows, Croft, Birchwood, or Daresbury, our service is always just a tap away.
Instant Quotation, Instant Booking, Instant Freedom
Our new app is designed to be user-friendly, efficient, and lightning-fast. Need a ride? Just open the app, enter your destination, and receive an instant quotation. With just a few more taps, your booking is confirmed, and a taxi is on its way to you. It's that simple!
Whether you're heading to a meeting, catching a flight, or just enjoying a night out, the Arrivals Star Taxi App ensures that a reliable ride is always within reach. Make the most out of your journeys in and around Warrington with our innovative taxi app, designed for your utmost convenience.
Exclusive Promotion: Get 10% Off Your Next Ride!
To celebrate the launch of our new app, we're offering an exclusive 10% discount on your next booking! Simply download the Arrivals Star app, book your ride, and use the promo code App23 at checkout. Don't miss out on this fantastic opportunity to save on your next journey.
Why Choose Arrivals Star?
24/7 Availability: No matter the time of day or night, Arrivals Star is ready to serve you. Our 24/7 availability ensures that you have a reliable taxi service at your fingertips, whenever you need it.
Access to 200+ Vehicles: While our fleet is extensive, we also have access to over 200+ vehicles through our contacts in the industry, providing you with unparalleled service and availability.
Instant Booking: Say goodbye to uncertainty and waiting times. With the Arrivals Star app, you can book your ride instantly and with complete confidence.
Safe and Reliable: Your safety is our top priority. All our drivers are vetted, professional, and dedicated to providing you with a safe and comfortable journey.
Local and Long-Distance Journeys: Whether you're looking for a quick local ride or need to travel a longer distance, Arrivals Star has you covered. Our services extend across the UK, ensuring that you can travel wherever you need to go, without any hassle.
Conclusion
Embrace the future of taxi booking with Arrivals Star's new app, designed to offer you instant access, convenience, and reliability, all at your fingertips. Download the app today, use the promo code App23, and start experiencing travel freedom like never before. Your next adventure is just a tap away! Find out more about the Arrivals Star Taxi App.